Aktuelles
Adapting and working safely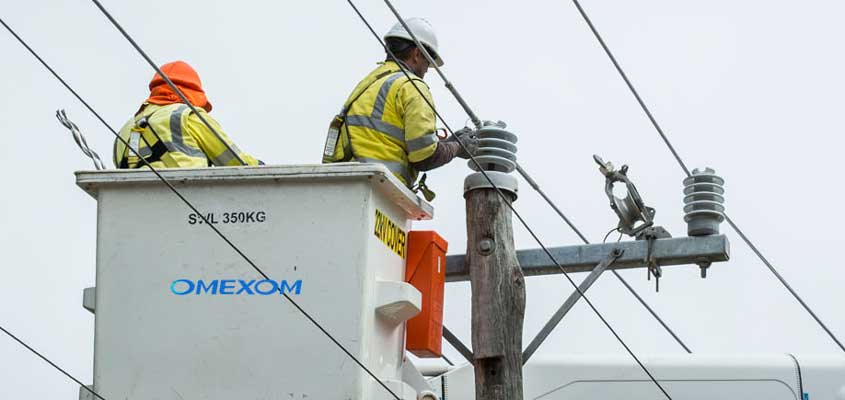 Over the past two months, the coronavirus health crisis has affected all countries in an unprecedented way. Our 23,000 Omexom people have done everything possible to ensure that the work sites continue to progress in accordance with the health regulations in force in their countries.
The ability to adapt
These examples show the ability of each country to adapt in order to continue the work while protecting our collaborators:
Australia

In Australia, the Omexom teams – whose activities are recognized by the Australian authorities as an essential service – are continuing their work on behalf of the Powercor electricity distribution network. They have adapted their methods of intervention to the current context. For work carried out by two workers in an aerial work platform – where social distancing is impossible – the teams use masks and apply good personal hygiene practices. In addition, the teams are made up of the same employees over a 14 days period, and their working hours are staggered so that each team works alone.

Cameroon

In Cameroon, the 30 employees in charge of maintaining public lighting and traffic lights in Yaoundé have adapted to maintain the activity. Among the protective measures implemented by the company, workers, equipped with masks and hydro-alcoholic gel, must go directly to the field without passing through the office and the number of passengers per vehicle is limited.

France

In France, worksites organization was completely overhauled to accommodate the measures required to prevent the spread of the virus, including optimization of means used to access the site, shared spaces, and working methods. For example, the number of workers, fitters and supervisors present on the worksite was halved to comply with social distancing. A marquee has been installed to keep people separated by safe distances during lunch. An individual lunch box is distributed to each employee.

Greece

In Greece, health and safety measures were rapidly introduced to protect all employees. A business continuity plan was drawn up identifying the full range procedural changes needed to keep everyone safe. The plan was circulated to all employees, providers, subcontractors and customers. Among other things it provides for placing hand sanitizer at strategic spots, distributing masks and gloves to everyone, etc.